New Burlington police officer seeks to build trust, mentorships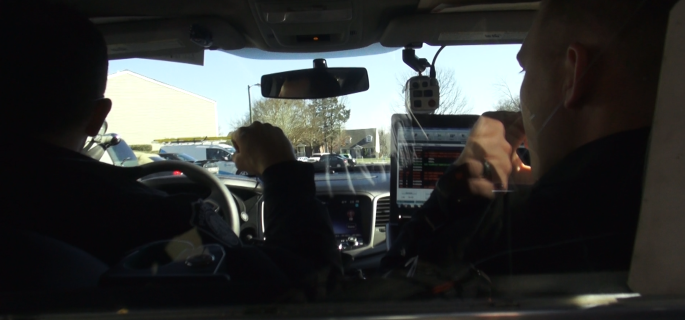 In the current climate where the word "police," has countless connotations, one man said he is trying to break down negative stereotypes without compromising his mission.
Curry Hall, 25, has wanted to go in law enforcement ever since he was little.
"I always liked to look at cops and say I wanna be like that," he said.
Late last month he got his wish. Hall, a North Carolina native, along with three other men became the newest hires to the Burlington Police Department.
Officer Hall says he is pursuing his passion, despite his loved one's concerns.
"They say, 'you got a degree, why don't you go use your degree in something your degree's in.'" he said. "I got criminology in my degree so I don't know what else I could do maybe work in the jail. But I don't want to do that. I like being out."
Currently he and other new officers are in the midst of 60 work days worth of field training.
He said his passion for serving country and community came long before he was patrolling the street. Officer Hall has been serving in the National Guard for the past five years. He was deployed to Egypt from November 2012 to May 2013.
"I like feeling connected and being part of a group," Officer Hall said. "That's why I've kind of joined the military and an organization like Burlington cause it kinda has ties together."
Though he enjoys the companionship and the opportunity to come out of college debt free, he says his real draw to the job is the chance to influence the youth of the city.
"So if you can be more of a role model or a mentor to them that could in itself could deter them from taking a different path in their life," Officer Hall said.

Officer Hall's drive for helping comes at a time when there is a 22-year low on police confidence nationwide.
Officer Hall wishes that people would see more to him than his job title.
"I'm a person just like everybody else. I think people get the idea that just because you wear a badge, like you don't have feelings. Or you don't get emotional sometimes. Or that you don't react the same as regular people but it's just a uniform," Officer Hall said. "Underneath is a person too."
He also says that understanding this can be hard for people.
"Trust is one of those thing like respect you try to give it to receive. It kind of goes back to my mentality with children, if you can get someone to trust you the way that they are and maintain that trust, they're going to continue that trust longer," Officer Hall said.
Whether people have a positive or negative view of local police, he says he hasn't lost faith in the force.
"I think the police are good role models and I would say the police are, not the best citizens, but you can't just be anybody and be the police. There's certain criteria so there are always a few bad apples but for the most part the police are pretty good human beings, " Officer Hall said.
Meanwhile, Officer Halls suggests that people take a walk in his shoes, or in his car, to understand what he says it means to be a police officer.
"Just sign up and ride along with an officer and see what his daily life is on the job."
"This car is an office for like 11 and a half hours. So that's a long time to put somebody in there. But the job is stressful. The pay's not always great," Officer Hall said. "You just need to experience it yourself to know what policing is."
To sign up for the Burlington Ride-Along Program call the department number at 336-229-3503.