Phoenix fall to Tribe's late effort on senior night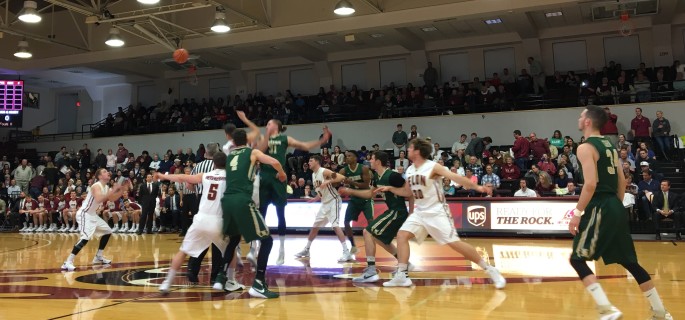 The Elon University Men's Basketball team lost to William and Mary by a score of 75-65 on Thursday night.
The Phoenix held the lead for the majority of the game, including a seven point edge at the close of the first half, but their offensive effort seemed to fall apart in the game's final minutes, only making one of their last seven shots to end the contest.
It was a bittersweet night in Alumni Gym from the start, as Elon's seniors played the final home game of their careers. Four seniors, Tanner Samson, Wes Brewer, Sam Hershberger, and Tony Sabato were honored in a pre-game ceremony before getting the nod from head coach Matt Matheny to take the court as part of Elon's starting five.
Samson, who ranks third among all active NCAA Division I players in three-pointers made with 317, made a splash early for the Phoenix, sinking a three in the game's first possession. He ended the night as the contest's leading scorer, notching 18 points from six buckets from beyond the arc.
"I'm not really too worried about our offense and I think we can score against any team in the league," said Samson after the game. "What hurt us down the stretch was just not getting stops."
Luke Eddy had Elon's second highest point total, scoring twelve, adding a team-leading rebounding total of six to his stat line.
For the Tribe, Omar Prewitt led his side in both points and rebounds, with eighteen points and seven boards. William and Mary had three other players in double digits. Terry Tarpey had eighteen, Daniel Dixon and David Cohn both scored ten.
Neither team had a massive advantage at the close of the first half, as a defensive battle morphed into a shootout. In the game's early minutes, high-energy play forced misses on both ends. Towards the close of the half, each team answered seemingly every offensive strike on the other end.
"I thought our guys played with great energy and great passion in the first half," said Matheny, "But now you've got to do it on the other end in front of their bench."
In the first half, neither side had a single player break out in the scoreline either. Elon's leading scorer through the game's first twenty minutes was Eddy, who netted ten points, including six from three point range.
William and Mary finished strong, hanging on to their third place position in the Colonial Athletic Association.
With the loss, Elon moves to eighth in the conference.
The Phoenix play their next game this Saturday at 2 p.m., on the road at Delaware.