Senior's new company heats things up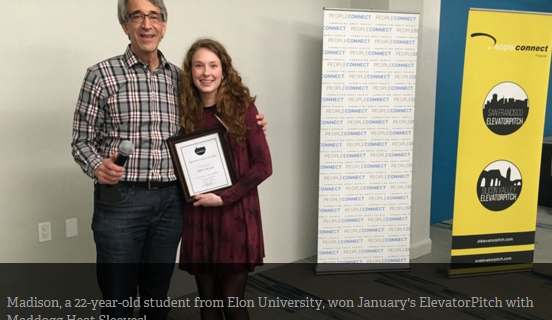 At Koury Business Center young entrepreneurs learn how to start, finance, and run a business. For some, these are merely exercises but for students like Madison Tamblyn, a Project Management Major, they're skills she intends to put to use very soon.
Tamblyn is the CEO and sole employee of Mad Dogg Heat Sleeve, a business she founded earlier this year. The main product of the company is a heated coffee sleeve that Tamblyn designed and created to help keep coffee hot for up to three hours.
According to Tamblyn the idea for the sleeve stemmed from her summer internship. Every morning she'd buy a cup of coffee before she went to work. By the time she made it to her desk her coffee was cold and she was too busy with meetings and assignments all day to reheat it so she ended up throwing it away. Frustrated with losing money to cold coffee, Tamblyn started sketching a product to fix her problem.
"I've pivoted a lot throughout the whole process," she said. "Originally starting with something that went into your coffee then something from the bottom of the cup, many different areas around the cup."
Tamblyn first shared her idea with her parents over the summer before putting serious work into it when she returned to school for her senior year.
"In the fall I took an Innovation course here at Elon and I was able to develop the product more and some of my friends started seeing it and seeing the results that I was getting and it kind of caught on and took off from there," she said.
Professor's like Dr. O'Mara helped Tamblyn from the early sketches to the first prototype she designed. And thanks to many of Elon's facilities, like the maker hub and physics lab, she was able to build a functioning product from the ground up The entire process took hours of hard work.
"I just did a lot of research online," Tamblyn said. "They were achieving like heat mechanisms that I wanted or something similar and I research how they were doing that and I was able to develop my own way."
All her work culminated into a two-minute pitch in California last month at an "Elevator Pitch" contest she entered while on a school trip. Faced with nine other companies vying for first place, Tamblyn was able to take the prize with a near perfect score on her pitch.
"It kinda was that first time people outside of Elon noticed the product and give me really positive feedback," she said.
After she won, Tamblyn had many professional business men and women coming up to her asking about her product and giving her contact information. She received interest from several investors looking to help fund her company in the future. But despite the award and all the fuss, Tamblyn doesn't feel like she's changed that much.
"Ever since this happened the next day I felt like I'm the same girl and all of this just happened but I still know the same, my products the same," she said.
The contest worked as a confidence booster for Tamblyn, showing her that her product was ready for the market. Looking ahead, Tamblyn is hoping to raise enough money through her new kickstarter campaign to produce the first batch of her "heat sleeves."
"Once I have my first initial batch created then I'll be able to take that to investors and pitch it to coffee businesses and start selling the product."
With her company hitting the market this spring, Tamblyn is on the fence with what she wants to do after college: join the work force and run her company on the side or go all in with her brand. But for now she's looking forward for the next step in her business venture.
"Right now since it is still brand new I'm trying to launch the product and the company this spring so I'm always looking for investors as well as students who are willing to help out with whatever skills they might have."
Tamblyn hopes to have her kickstarter campaign up in the next week for those who want to invest in her brand. If you'd like to learn more about Mad Dogg Heat Sleeve you can follow them on Twitter @maddoggHS or on Facebook at www.facebook.com/maddoggheatsleeve.