Campus Recreation hosts Battleship: A board game with a splash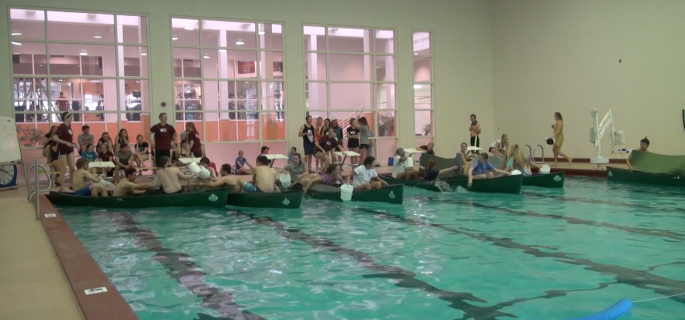 When walking past the pool in the Koury Athletic Center, you will usually see people swimming or diving but last Friday was not your typical day as Campus Recreation made a splash by clearing the swimming lanes at Beck Pool and dropping in canoes for an event adapted from a classic board game.
The game is called Battleship and the title is not the only thing the board game and the Campus Recreation event have in common. The goal of both is to sink the other team's battleship but the tools to do it are much different.
In the pool, students substituted canoes in for battleship game pieces and buckets of water for red pegs.
Riley Billman, a Special Events Manager at Campus Recreation, had the idea to create this event three years ago. Billman said that each new hire for Event Management is required to pitch a mock event and the staff was interested in her event enough to make it a reality. For the past three years students put their wits and strength to the test as they brave the waves and water in hopes to emerge from the pool victorious.
"People get so into it and have serious team names and serious strategy meetings and I absolutely love it. I saw someone huddling over there to prep themselves for their third heat," Billman said.
Junior Chuckie Hawes participated in the inaugural Battleship event in March of 2014 but was unable to make it last year. Hawes and his teammates were able to use their experience from the first year playing to develop this years strategy.
"Well this is an intensively social game which you would not think so we essentially tried to make alliances with everyone you can and try to play the field and not become anyone's enemy," Hawes said.
The event began at 4 p.m. and a winner was crowned following two hours of elimination rounds and many sunken canoes. Hawes and his teammates were defeated early on but enjoyed their time in the water regardless.
"You know everyone wants to throw random boats in a pool and use them to, you know, sink each other. That's just what you want to do," Hawes said. "It's really fun to have oddities like this which spark up your weekend."
Whether you were with among teams like Hawes' or one of the last canoes afloat, the last thing you wanted to utter was the phrase "You sunk my battleship!" While the event is only held once every year, it is never too early to start planning a strategy with two other teammates. Contact Catherine van Eyck at [email protected] for more information regarding future Battleship events.