Helping college students live a healthy life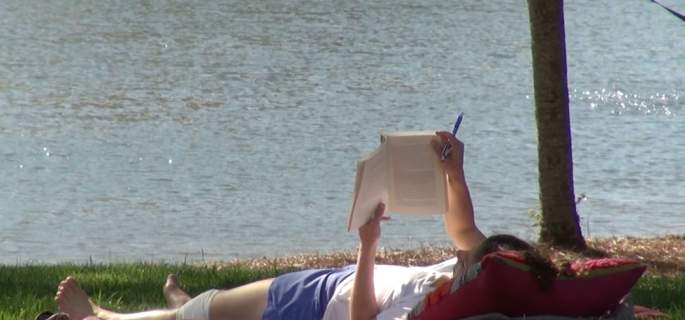 This week is National Public Health Week, and the American Public Health Association is working to bring together communities across the country with a goal to create the healthiest nation in one generation.
According to a study at Northwestern University, 95 percent of students don't get the recommended daily nutrients and 60 percent don't get the suggested exercise. 
Director of Health Promotion and Student Concerns Outreach, Whitney Gregory, stressed the importance of public health on campus and said she wants Elon students to have every opportunity to be healthy.
"Our goal is to make sure that students have every opportunity for the highest level of physical, mental, and social well-being," Gregory said.
One of the ways students can relieve stress is to get in a quick workout in between classes or when you wake up in the morning. Whether it's at the gym or walking around campus, any form of exercise can relieve you from negative forms of stress, give you boosts of energy, and give you a release of endorphins that can have a naturally calming effect on the body.
"Physical exercise is great for reducing some of the negative physical impacts of stress, so embrace the stress in it's good ways, but also recognize when your body's becoming rundown if there's stress day after day after day, and trying to focus on what relaxation works for you individually," Gregory said.
Another way to live a healthy lifestyle is to change up your diet.
"Think of food as fuel and also enjoy some fun food every now and then. Just hitting that healthy balance of thinking of food in healthy ways and using it in ways that are healthy for each person particularly."
Promoting healthy living doesn't end after National Public Health Week. Kappa Delta sorority is hosting an event called "Be You" on April 16. The event will include yoga, healthy food options, and other ways to promote a healthy lifestyle. Elon sophomore Genny Tankosich, is in charge of the event.
"The event is really to bring that healthy lifestyle into the forefront of people's minds, so that they can hopefully come to the event they'll have a really good time and that'll inspire them to kind of go off into their daily lives," she said. 
Tankosich acknowledged the struggles that students have in finding time to go to the gym or eat healthy amidst busy schedules. But she has a plan in place to ensure that she is making time to focus on her well-being.
"I map out what time I need to get up in the morning, what time I need to get out of bed, so if I want to watch television or if I want to have time to read a book, then what time do I need to do that, so I try to plan things out so that I have time to myself that I am getting enough sleep," she said.