#ActualSororityMove spreads on campus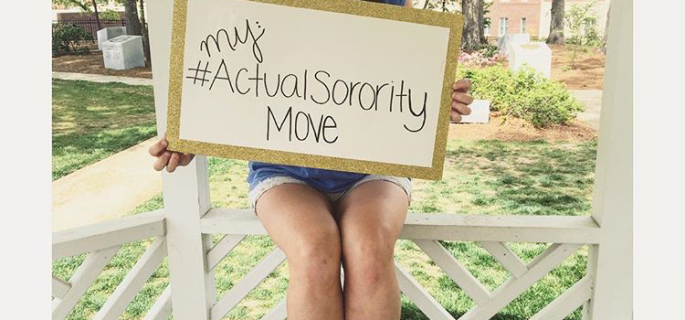 This story is being covered by Selina Guevara and multiple staff members. 
Updated May 4, 10 a.m.
The #ActualSororityMove campaign that started on Elon University's campus and engaged over 3 million online viewers continued Tuesday morning at College Coffee.
The campaign started on April 19 as an effort by Elon's Sigma Kappa sorority chapter — Kappa Zeta — to redefine what it means to be in a sorority through empowering social media posts. Tuesday's objective was to engage male students and gain faculty support. Vice President of Member Education Amanda Steinman originally brought the idea of the campaign to campus, and explained the importance of solidarity across the student body.   
"Yes we are sorority women, but we are united together, and we hope to change not only the minds of other people on Elon's campus, but professors and faculty who may think that we are just here to party," Steinman said.
Since the start of the campaign, the original posts have received almost 19,000 likes and over 800 comments on Sigma Kappa's Facebook page alone.  With that kind of publicity, members have received a multitude of responses. Sara Elgart, president of Sigma Kappa, speculated about the reactions.
"We've received an overwhelming sense of support, not only from Elon students, but also from other students at schools nationwide," Elgart said. "It's been great to have this sense of support and camaraderie among all sorority women in the nation."
On the negative side, the most notable response was from the college humor website Total Sorority Move (TSM). On Wednesday April 20, TSM published an article firing back at the campaign stating that the goal of their website is "simple, to entertain sorority and other college-aged women, not to define them."  But Elgart assures others the campaign never had malicious intentions.
"While there may be some people who do not feel that it is a movement in a positive direction, we feel very strongly that this is an opportunity to change the minds and the perceptions of sorority women around the world," she said.
The ladies of Sigma Kappa issued an official statement on their Facebook page, which many members believe speaks for itself.
Statement from the Kappa Zeta Chapter at Elon University
We, the sisters of Kappa Zeta, were inspired to produce our own #ActualSororityMove (ASM) campaign to demonstrate that sorority members are dynamic, amazing, and powerful women who are more than what society often perceives us to be. ASM is a movement that describes itself as combating "the negative stereotypes of 'sorority girls' formed by the media, as well as degrading posts on various social networks." We share the concern over this stereotype and felt compelled to make our own powerful statement.
Participating members of Kappa Zeta were encouraged to share an image of themselves in a way that conveys their own individuality while, at the same time, being a proud sorority sister. We believe that is why our campaign has resonated with all women, not just sorority members. We are incredibly heartened by the 2 million online users who have seen the images, the 10,000 that have liked them, and thousands who shared them. This campaign is not intended to be a direct attack on any one outlet or group, but rather to help facilitate a larger, more important conversation about gender roles at our own Elon University and beyond.  We are a multidimensional group of women, we have passions and dreams and goals, we fight for gender equality, we work together to lift one another up, we cannot fit a mold or be put into boxes.  Yes we are not perfect, and we may perpetuate some of these stereotypes but we are also so much more than that.
We are extremely proud that the national organization of Sigma Kappa supports our effort. Our Sorority's stated purpose is to provide lifelong opportunities and support for social, intellectual and spiritual development by bringing women together to positively impact our communities.Women from many of Elon's Greek organizations posted photos on Instagram and Facebook with captions showing how they say they don't fit the typical sorority stereotype.
The campaign continues and can be followed on Sigma Kappa's Facebook page, as well as through local news outlets such as Times-News and the Pendulum