Former Elon pitcher makes pro debut in Burlington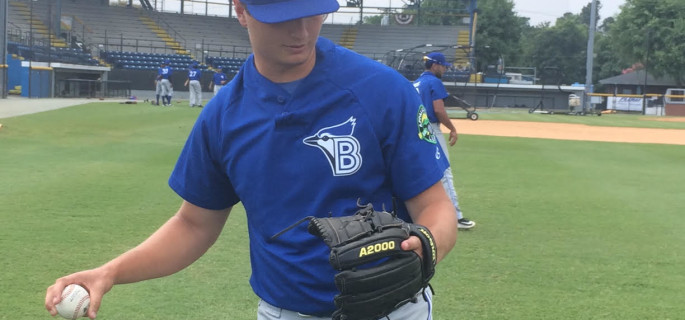 BURLINGTON — Fresh out of a blood test, former Elon University pitcher Chris Hall '16 couldn't help but laugh at his Sunday night.
"A lot of firsts tonight," Hall joked.
The first official blood test followed his first appearance in professional baseball, in which he threw 1.1 innings for the Bluefield Blue Jays against the Burlington Royals.
With about a dozen people from Elon in the stands to support Hall — including head baseball coach Mike Kennedy, assistant coach Micah Posey, and five former Elon teammates — Bluefield manager Dennis Holmberg's decision to not pitch Hall so he could debut just six miles from his collegiate home.
"I was the last guy who hadn't thrown out of the bullpen, so I figured today was my day," Hall said. "[Bluefield manager Dennis Holmberg] had mentioned something about coming back to Burlington, so I thought he might be saving it to have some of the home fans see me."
A 14th round pick in the 2016 draft, Hall was called in from the bullpen with two outs in the seventh inning, asked to hold a 3-2 Blue Jays lead with the tying run on first. On his third pitch, the runner tried to steal second, but Bluefield catcher Ridge Smith threw him out to end the inning.
After a home run in the top half of the inning extended the lead to 4-2, Hall threw a slider that didn't slide much to Gabriel Cancel, who blasted it over the wall for a leadoff homer.
First batter of the 8th: Hall gives up a solo shot to Gabriel Cancel. So it's back to a 1-run game. 4-3 Bab… https://t.co/3wnl71rtN9

— Alex Simon (@alexsimon99) June 27, 2016
"It was a bad pitch I made — it was up a little bit," Hall said. "After that, I think I locked in a little bit more. Maybe I wasn't as focused as I should have been. But it definitely got me going after that."
The typically stoic Hall showed some anger after allowing the homer, but bounced back nicely by striking out Nicky Lopez on a good slider, which dove toward Lopez's back knee as it reached the plate.
Hall gets Nicky Lopez swinging on a slider for his first professional strikeout. @pendulumsports https://t.co/8H9F6jagkq

— Alex Simon (@alexsimon99) June 27, 2016
Hall then got a groundout to second and a grounder to third, but an error kept the inning alive and put the tying run on base. Against Chris Devito, who had homered each of the previous two nights for Burlington, Hall froze him with a 90-mph outside fastball, getting a called strike three to end the inning and his night.
Hall gets Chris Devito looking with a 90-mph fastball. Royals fans don't like it, but the Elon fans here do. https://t.co/2nFZWIJdIe

— Alex Simon (@alexsimon99) June 27, 2016
For rising senior pitcher Brandon Kacer, seeing Hall succeed as a pitcher in a professional game was shocking, but the arm strength was always evident.
"I would have never seen him as a pitcher, but everybody knew about his arm," Kacer said. "When he was catching, they way he threw the ball, we all thought he could be a pitcher if it could ever happen.
"Once he got that first bullpen his sophomore year, we all said, 'This kid's got a chance to do something special.' And he came out and is doing it right now."
And the fact that he's doing it after he spent his entire baseball career as a catcher before his sophomore year is the part that awes Posey.
"I think it's awesome," Posey said. "He came in and was kind of a role player for us early on and got frustrated doing this is pretty cool. He's come a long way in a little amount of time."
Posey sees Hall as having a chance at a good professional career if he can continue to improve his velocity, which was between 90-93 mph tonight.
"It's nice to know that they continue to support you after college," Hall said. "They follow up with all of our careers after, like sending texts to see how we're doing."
And Kacer — who said he "had to make the drive" from Charlotte to Burlington for the game — wants Hall to know that he will continue to have that support as long as he continues to pitch professionally.
"To see his first professional appearance is awesome," Kacer said. "All of us hope to follow him all the way through and live vicariously through him."