At RNC, Millennials look to future of Republican Party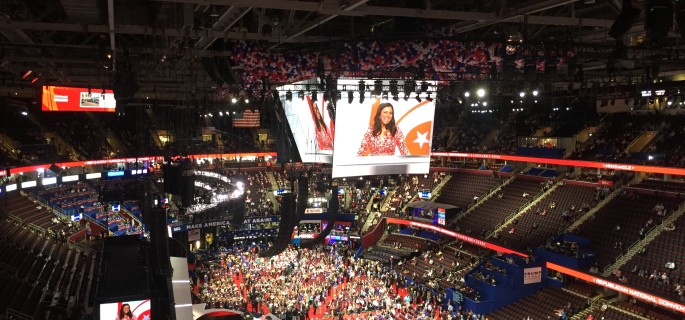 CLEVELAND — Cassie Unruh's been coming to Republican National Conventions since she was born. Now 17, she says she's finally old enough to care about what happens.
Her mom, Kendal Unruh, has been a Colorado delegate in the last seven elections, and was in the spotlight Monday as a leader of the "Free the Delegates" movement that attempted to allow delegates to vote for who they wish, rather than who they're bounded to.
She brought Cassie to a conservatives summit in Denver a few years ago, and once Cassie heard the speakers, she saw the ability and potential to make a difference — an idea her mom has instilled in her.
"I love being part of the Republican Party and representing what a great party we are," Cassie Unruh said. "I love to stick to conservative values and morals. This is fun. I love all the excitement that goes on here."
The Millennial vote was one of the focal points during the RNC's opening session Monday afternoon, with Alex Smith, national chair of College Republicans, and Dennis Cook, president of Young Republicans, both speaking.
Later, Unruh and the "Never Trump" movement caused temporary chaos on the convention floor during voting on the convention rules package. Eleven states requested a roll call, which was eventually denied by convention chair Rep. Steve Womack (R-Ark.), who determined by a second voice vote that the package was approved.
Republicans have long struggled to win the youth vote, and lost it decidedly in the 2012 election. It's part of why President Barack Obama was elected to two terms, and something the GOP put a focus on during the last four years.
According to an analysis by the Center for Research and Information on Civic Learning and Engagement at Tufts University, Obama won at least 61 percent of the youth vote in Florida, Pennsylvania, Ohio and Virginia. If Republican candidate Mitt Romney had mustered even a 50/50 split, it could've swung those states to him and potentially altered the election's outcome.
Smith, the first female chair in the 124-year history of College Republicans, acknowledged the party's failures in the past with young people.
"There's too much old and not enough grand in the way we present ourselves to tomorrow's voters," she said.
Lucas Hutchinson, 23, is a delegate from Tennessee. He's attending his first national convention, and will be casting his vote for Sen. Ted Cruz (R-Texas).
He worked on Cruz's Tennessee campaign team during the primary season, making more than 1,000 calls in support of the candidate. He was a political science major at the University of Tennessee at Martin, and currently works for the National Riffle Association in Wisconsin.
Hutchinson said Millennials should focus on this election because of the Supreme Court justices the next president will nominate. The Supreme Court has had an open seat since Justice Antonin Scalia's death earlier this year.  The Republican-led senate has yet to have a hearing for Merrick Garland, whom Obama nominated to fill the seat in March. According to the New York Times, two recent cases resulted in 4-4 splits because of the empty slot.
"The decisions they decide are going to impact our lives for the next hundreds of years," he said. "Justices are the big thing.
Millennials make their presence felt at the RNC. Video by Elon News Network senior reporter Paige Pauroso.
Hutchinson isn't part of the Never Trump movement, but knows plenty of fellow Cruz campaign staffers who are. He said he's not the biggest fan of Donald Trump, but agrees with his stance on immigration.
And when it comes to pulling young people into the GOP, Hutchinson cited the party's platform on taxes.
"Keeping more of your own money, less control going to D.C.," he said. "If your taxes are 25 percent, then a quarter of the time you're working for the government or someone else."
Smith dispelled the notion that Republican Party's values don't align with young people.
"If anyone tells you free market principles aren't in demand with our generation, they haven't looked at the world around them lately," Smith said.
Dennis Cook, president of Young Republicans, spoke during the afternoon, proclaiming that "Democrats have lost their monopoly on youth support in America."
Cook said, though, that Republicans face an uphill battle with Millennials, but emphasized that the GOP is a "party of reality."
"And there's no better illustration of the American dream we're fighting for than Donald Trump and Mike Pence," Cook said.
This story was jointly reported by The Pendulum and Elon Local News.