As RNC concludes, LGBTQIA rights take center stage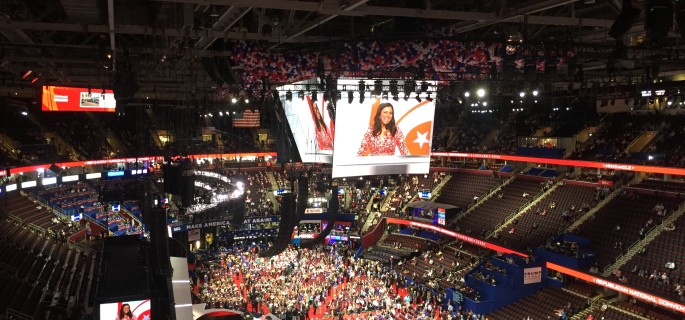 CLEVELAND — LGBTQIA rights, a subject that's kept the Republican Party at odds, surfaced on the crowning night of the Republican National Convention, further deepening the divide and putting into question where the party would stand if Donald Trump is elected president.
This came amid more fallout from House Bill 2 in North Carolina, as the NBA pulled its 2017 All-Star Game from Charlotte because of the bill, signed by Republican Gov. Pat McCrory, that targets LGBTQIA citizens.
First, Peter Thiel, the Silicon Valley entrepreneur and former CEO of PayPal, proclaimed that he's "proud to be gay," on the convention stage, likely the first utterance of such words at an RNC ever.
He furthered that by specifically calling out HB2, known as the "bathroom bill," which requires transgender people to use the bathroom of their biological sex, among other things. PayPal withdrew plans to expand into Charlotte because of HB2 earlier this year, costing the city upwards of 400 jobs. 
"Now we are told that the great debate is about who gets to use which bathroom," Thiel said. "This is a distraction from our real problems. Who cares?"
Then, Trump said he'd fight for LGBTQIA rights in his 75-minute acceptance speech, a claim that's in direct conflict with the Republican Party platform passed last week ahead of the convention.
Trump mentioned the shooting at a gay club in Orlando in June, which many Republicans — Trump included — have heralded as an act of terrorism, not necessarily a hate crime against LGBTQIA citizens.
"As your president, I will do everything in my power to protect our LGBTQ citizens from the violence and oppression of a hateful foreign ideology," Trump said, largely to applause. "And I have to say, as a Republican, it is so nice to hear you cheering for what I just said."
Trump has said before he'd be better for the LGBTQIA community than presumptive Democratic nominee Hillary Clinton would, seemingly neglecting the difference in the two parties' stances.
In the GOP platform passed before the convention, it specifically defines that "the cornerstone of the family is natural marriage, the union of one man and one woman." It also says that each child deserves a married father and mother.
Later, the platform says Title IX is being wrongly used to redefine sex discrimination to include sexual orientation, and that the bureaucrats and President Barack Obama's "edict to the states concerning restrooms, locker rooms, and other facilities is at once illegal, dangerous, and ignores privacy issues," while praising the states who have filed suit against it — North Carolina included.
MORE: Elon coach Matt Matheny among N.C. hoops coaches against HB2, per USA Today
It's been touted as one of the more socially conservative GOP platforms. The phrases LGBT and LGBTQIA and the word "gay" is nowhere to be found in the 59-page document.
Nick Allman, a 23-year-old delegate from Texas, thinks LGBTQIA rights is an issue that prevents the Republican Party from appealing to younger voters.
"There's a pretty significant break with the gay issue, for lack of a better term," Allman said in reference to an informal survey he conducted of Millennial delegates. "The Republican Party, in their platform, says that homosexuality is curable. That claim is off-putting to a lot of Millennials.
"Many, many people, in my opinion, who would otherwise vote Republican, are turned off by that one single issue. If the party wants to continue and win more — you don't have to like it, but you have to stop talking about it because it's damaging to the brand."
But do Trump's comments mean any direct action will be taken? It's unclear.
While saying he'd protect LGBTQIA citizens, he didn't offer a plan as to how he'd do that. And it's important to note he offered protection from "violence and oppression of a hateful foreign ideology." He says nothing about domestic ideology, and could more broadly just be touting his goal of destroying the Islamic State and radical Islamic extremism.
Nevertheless, Republicans came to Cleveland to unite. Comments from Thiel and Trump, along with more turmoil in North Carolina, suggest that they're still divided when it comes to LGBTQIA rights.
This story was jointly reported by The Pendulum and Elon Local News.