Hillary Clinton makes history by accepting Democratic Party nomination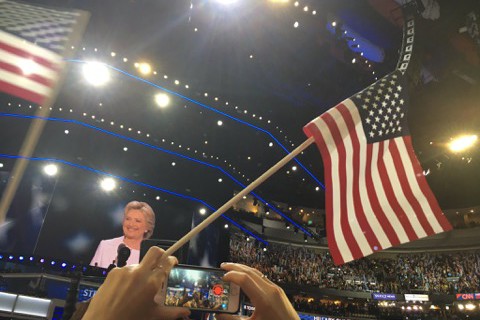 Making history in her signature pant suit, Hillary Rodham Clinton officially became the first woman to accept a major party's presidential nomination on Thursday.
She said she will accept the nomination "with humility, determination, and boundless confidence" from her fellow Democrats.
Clinton used her speech not only to discuss her past accomplishments in her decades long career in public service, but also to discuss ideas for the future.
The presidential nominee thanked Bernie Sanders for his support throughout the week and reassured the Sanders supporters that with her as the nominee, their cause would become her cause.  She also promised to continue to work with Sanders to make "college free for middle class and debt free for everyone."
Clinton attempted to distinguish her message away from her Republican rival Donald Trump and called his convention speech "odd" while questioning his experience and temperament.
"A man you can bait with a tweet is not a man we can trust with nuclear weapons," she said.
Focused on her current campaign slogan, "Stronger together", Clinton told the American people that it takes more than one person to fix the country. Unlike Trump, who says he could solve America's problems by himself, Clinton called on the American people to come together to make a difference.
"Americans don't say: 'I alone can fix it'," she said, "We say: 'We'll fix it together'."
Clinton thanked the many families and individuals who had a positive impact throughout her career.
"In this campaign, I've met so many people who motivate me to keep fighting for change," she said, "And, with your help, I will carry all of your voices and stories with me to the White House".
Looking to make major strides within her first 100 days of taking office, Clinton promised jobs to the middle class in fields such as infrastructure and manufacturing.
She also discussed multiple social issues including LGBTQ rights, equal pay for women, and guns. Clinton promised to work with gun owners to keep assault weapons out of the hands of criminals.
"I'm not here to repeal the 2nd Amendment. I'm not here to take away your guns," she said, "I just don't want you to be shot by someone who shouldn't have a gun in the first place."
Clinton was introduced by her daughter Chelsea, who now has the distinction of both of her parents being the nominee for president of the Democratic Party. Chelsea spoke about her mother as a parent, a grandparent, and a public servant.