Mitchell leaves Elon to pursue graphic design / Deck: CAA's leading tackler graduated in May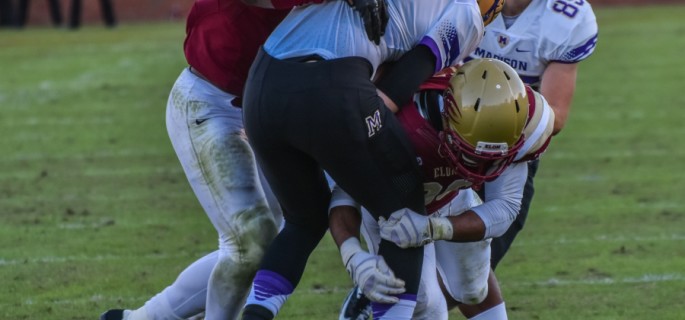 By: Alex Simon
Corey Mitchell '16 has decided to forego his final year of eligibility and will not play for the Elon University football team in 2016.
Mitchell graduated in May with a degree in Communication Design. He said he's leaving the team to focus on working in graphic design.
"I decided to go in another direction," Mitchell said. "It was a complex decision, but I decided to pursue my passion."
Mitchell is currently interning at Glen Raven, Inc. and with Elon's Campus Recreation department. He intends to pursue a full-time job in the field at the end of the summer.
It's a recent decision for Mitchell, as he participated in Elon's spring practices. In a statement, head coach Rich Skrosky said Mitchell had decided in April he would come back.
"Corey went back and forth in the fall about coming back for his fifth year," Skrosky said. "He indicated the decision was for his own personal reasons. While we are disappointed, we will move on and thank Corey for his contributions at Elon and success in his endeavors."
As a redshirt junior last season, Mitchell led the Colonial Athletic Association (CAA) with 116 tackles. He also forced a team-high two fumbles and had seven tackles for loss. The stellar play earned him a nod on the All-CAA Second Team and was named Most Outstanding Defensive Player by the team.
Throughout the season, Mitchell was balancing life on the field with newfound fatherhood, as his son Julian was born in June 2015. Mitchell had previously discussed the difficulty in being away from his son during the football season.
Mitchell expressed thanks to Elon and the football program.
"Football has taught me numerous lessons, and has allowed me to leave college debt free and with a degree from one of the most prestigious university in the country," Mitchell said. "I'm forever grateful for that."