On last day of RNC, protesters relatively quiet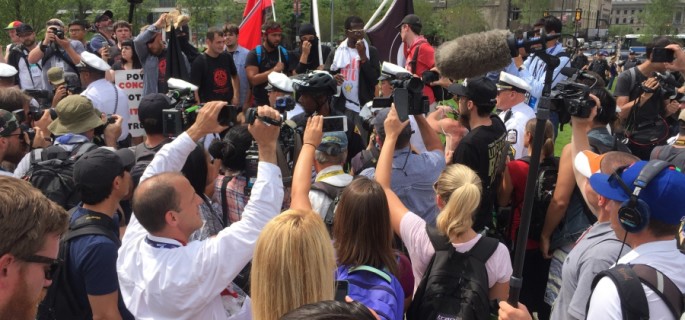 CLEVELAND — It's the last day of the Republican National Convention, and while downtown streets are still filled with people, one group isn't as prominent as expected.
Protesters.
All week, demonstrators filled Public Square, Prospect Avenue and E. 4th St. near Quicken Loans Arena to voice their support or disapproval of Republican nominee Donald Trump and likely Democratic nominee Hillary Clinton, among other causes.
Police presence seemed to increase as the week went on, but save for a flag burning that netted a number of arrests Wednesday, the streets have caused relatively little discord.
Thursday afternoon, hours before Trump will speak inside The Q, the same characters who have been around all week held steady in the city.
There are the men who have carried large black signs on E. 4th near the MSNBC set. Their message includes phrases like "God will bring you to judgment" and "Salvation is the free gift of God."
There's a young man who calls himself "Mr. Do Too Much," who danced in the midst of protesters Wednesday and was at it again Thursday holding a dance-off in Public Square.
And there are the people set up on street corners selling T-shirts and buttons that say "Hillary for Prison" and "Trump that (expletive)."
The most organized protest Thursday was in Public Square that seemed to have conflicting beliefs. Police from Columbus, Ohio, took quick initiative to separate those leading the demonstration and those media members and citizens watching.
"There's no need for people with guns to separate us from our fellow citizens," one man in the protest shouted. But another person participating vouched for the police, saying they're just "doing their job."
With Trump's sometimes-incendiary comments and the generally hostile nature of this election cycle, in addition to recent shootings in Baton Rouge, La., St. Paul, Minn., and Dallas, Cleveland Police added extra support for the RNC. Officers from Kansas, Michigan, Indiana, California and Utah are all in Cleveland, as well as some from the U.S. Capitol and Department of Homeland Security. The city has employed bike cops and mounted officers, too.
So far, there have only been 22 arrests during the RNC.
In a press briefing earlier this week, Cleveland Police Chief Calvin Williams said the protesting during the convention was milder than expected.
"We have more media than protesters," Williams said.
This story was jointly reported by The Pendulum and Elon Local News.