Police presence increases on third day of RNC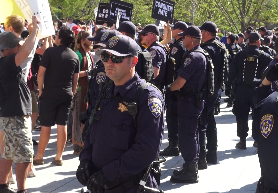 CLEVELAND – Protesters flocked here the past three days to voice their opinions. Different groups are speaking their mind on religion, foreign policy, LGBT issues and more seemingly all day long.
So far, the protests have been mostly peaceful.
"It's like an open forum for communication most of the time," said Brianna Halasa, an anti-Trump protester. "There have been some people who are kind of loud and angry but other than that it's been okay."
Police seemed to have a greater presence Wednesday as protests grew larger, but not as much as some people thought. Cleveland planned for 1,000 protesters and hundreds of arrests but only made five arrests the first two days.
"This is a lot more civil than I thought it would be. I have really enjoyed this talking to people who have very, very different ideals than my own," Mark Thomas Williams Jr., a Trump supporter. "It's a lot better than having people argue on the Internet when you can see them in person and see where they come from."
And with more protests, come more police. In Public Square, at the center of downtown, a person could look around and see the California Highway Patrol, Homeland Security, TSA, Secret Service, Indiana State Police and Missouri Police, just to name a few.
"I feel pretty comfortable," Williams said. "There's enough firepower out here to stop anything."
Others agree, saying that the amount of police is reassuring.
"I feel safe. They're my own personal bodyguards," said Tawayne McGee, a local college student.
But others disagree, citing recent news events that happened across the country.
"I think it's made people really nervous. They've brought in police from all over the country," said Aniga Rajhan, a college protester from George Washington University.  "I saw Florida Highway Patrol this morning and frankly, I think it's unnecessary. The vast majority of protests that I've been involved in and have seen have been very peaceful."
The protests have been overwhelmingly non-violent and non-disruptive. There have been 22 arrests so far, according to Cleveland Police. The last day of the convention is Thursday.
This story was jointly reported by The Pendulum and Elon Local News.