Trump in RNC acceptance speech: 'I am your voice'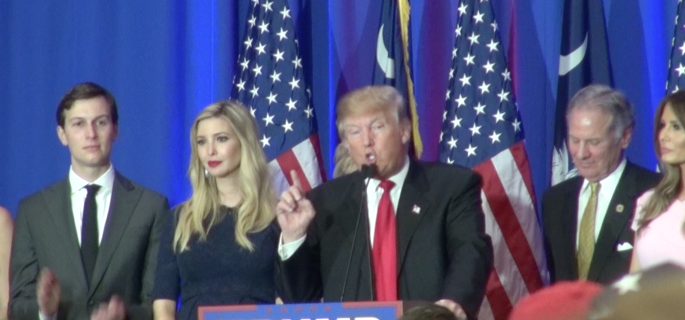 CLEVELAND — Donald Trump accepted the Republican nomination for president Thursday night, crafting an image of a damaged country while proclaiming to the masses that "I am your voice" and promising that the U.S. will be first again.
"My message is that things have to change — and they have to change right now," he said.
Trump played at Americans' fears, listing a slew of national and foreign problems he wants to fix. He said he'll strengthen the borders, sign effective trade deals and promote a "law-and-order" way of doing business.
He spoke directly to the citizens watching at home, shunning competitor and presumptive Democratic nominee Hillary Clinton's slogan of "I'm with her" by saying "I'm with you, the American people."
"I have visited the laid-off factory workers, and the communities crushed by our horrible and unfair trade deals," Trump said. "These are the forgotten men and women of our country. And they are forgotten, but they're not going to be forgotten for long. People who work hard but no longer have a voice. I am your voice."
He promised there wouldn't be any lies at the Republican National Convention, and if you wanted to find those, to head to Philadelphia for the DNC next week. That comes after a week of controversies that included a botched roll call vote, his wife Melania's plagiarism of First Lady Michelle Obama's 2008 speech, and former Republican primary competitor Ted Cruz's (R-Texas) refusal to endorse Trump during his primetime  speech Wednesday.
The real estate mogul also mentioned recent acts of violence and killings of police officers, pushing his law-and-order narrative and pledging that when Americans wake up the day after he's inaugurated, they'll be able to feel safe again.
"I have a message to every last person threatening the peace on our streets and the safety of our police: When I take the oath of office next year, I will restore law and order to our country," he said.
As has been the theme all week, Trump took repeated swings at Clinton, his opponent. He promised to repeal Obamacare and promote policy that'll better serve all Americans.
Trump looked uncomfortable when "Lock her up!" chants began — they've been common during the convention — waving his hands and saying, "Let's beat her in November."
"After 15 years of wars in the Middle East, after trillions of dollars spent and thousands of lives lost, the situation is worse than it has ever been before," Trump said. "This is the legacy of Hillary Clinton — death, destruction and weakness. But Hillary Clinton's legacy does not have to be America's legacy."
Trump mentioned how he left the business world for this gig. Before his daughter, Ivanka, introduced him, a video played with his children noting how their father didn't need to run for president.
But Trump says America is about to "start winning again," breaking away from what the Democrats have done over the last eight years. He said he wants to work for the American people and to fix the "rigged" system that didn't punish  Clinton for using a private email server while conducting State Department business while she was still Secretary of State.
"Nobody knows the system better than me," he said, "which is why I alone can fix it."
This story was jointly reported by The Pendulum and Elon Local News.