Lakeside Lowdown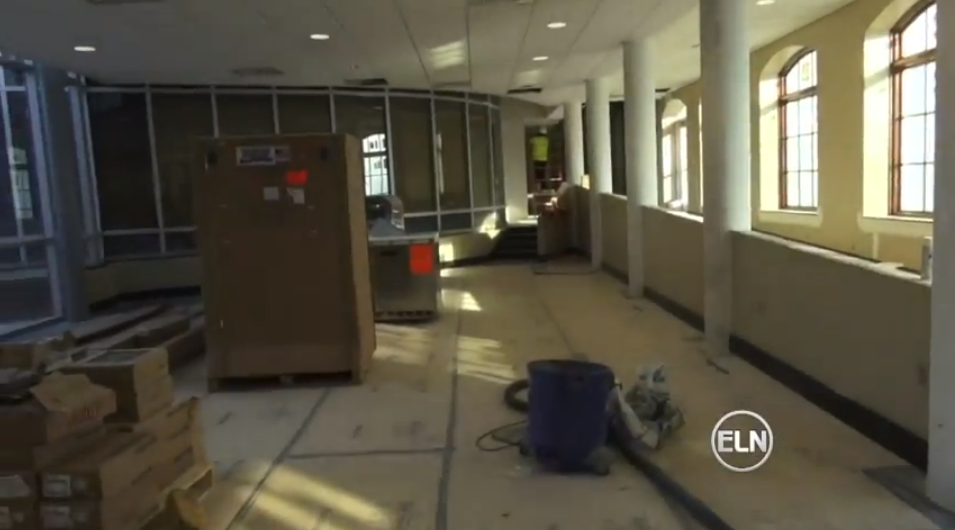 Construction workers are busy putting the finishing touches on the new Lakeside Dining Hall and Winter Garden Cafe. Elon dining's marketing manager, Kate Nelson, gave Elon Local News a sneak peek of the facility.
Lakeside Dining Hall will be Elon's largest, with multiple food stations, and a variety of food court and fast food-style options, all in one place. The dining hall will also feature a ballroom on its second level, similar to Moseley Center's McKinnon Hall. This ballroom will have a balcony that overlooks the dining hall seating area from above.
According to Elon Dining's Kate Nelson, the new dining hall will have three main stations.
"It will have one station that is going to be globally inspired that our executive chef Pinky Varghese has developed some global menus, so each week we will visit a new country and or region, with authentic dishes."
There is a locally inspired station, says Nelson, "based on seasonality and availability, there will be some local options. If sweet potatoes are in season, we will have entrees featuring sweet potatoes."
For students who are worried about old favorites like Topios, Grillworks, and Pan Geos leaving, Nelson says Elon Dining is trying to accommodate these concerns. "Right now, Pan Geos is scheduled to close. That did not make it into the new building. But we are looking at options to have those menu items offered in other places on campus, so the taco salad will not be going away."
A brand new addition to Elon's campus will be the "Coca-Cola Freestyle Machine". This fountain beverage dispenser will have over 100 varieties of popular Coca-Cola owned products, including Minute Maid, Nestea, Powerade, and Seagrams.
The full facility is expected to have it's grand opening by the beginning of Spring Semester. For more updates on the construction, visit Elon Dining Services Facebook page or their Twitter account.