Cooking with Cook: an end of summer salad recipe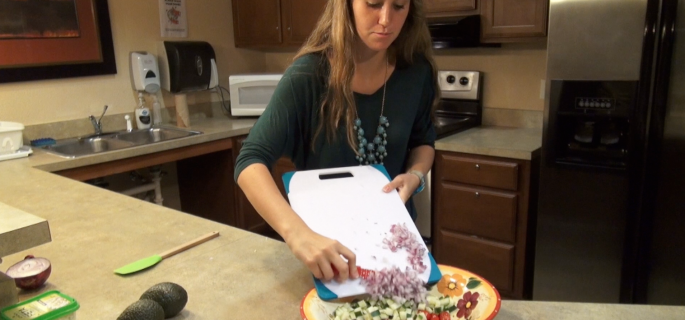 Although it is September, the warm weather feels like the seasonal transition into fall hasn't happened just yet. A great way to wrap up the last remnants of summer is by making a simple, end-of-summer salad recipe.
This end-of-summer salad is quick and easy to make, using only six ingredients and a total cook time of 30 minutes. The cost of the ingredients totaled up to only 13 dollars and can serve up to five people.
Ingredients:
One container of Cherry Tomatoes
Feta cheese
Two avocados
Three ears of corn
One cucumber
One red onion
First, preheat your oven to 350 degrees. Place all three ears of corn (don't shuck the corn) on a baking sheet in the oven for 25 minutes. While the corn is baking, begin chopping up the vegetables.
When chopping the vegetables, use about half of the container of tomatoes and slice them each in half. Put the sliced tomatoes into a large bowl. Finely dice three quarters of the cucumber and add this to the same bowl with the tomatoes. After peeling the excess skin off of the onion, chop half of the onion and add it to the bowl. Finally, take both avocados and cut them open. Separate the avocado from the outer shell and spoon it into the bowl.
After 25 minutes, remove the corn from the oven, set the pan aside to cool. After the corn has cooled down, peel off the husks. It should come off pretty easily, along with all the silk inside. Shave down the sides with a knife, and then add the corn to the mixture as well.
The last thing you're going to go ahead and add is the feta cheese. Pour the cheese right over all the vegetables, and mix it all together.