New Grocery Store Caters to International Customers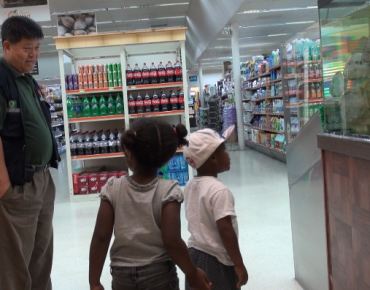 As new additions have come to campus this summer, there have also been changes in the surrounding community.
Super G Mart, an international grocery store, is located on W. Webb Avenue and has been open since late July. Owner Stephan Kim is a restaurant owner from Washington, D.C. and started working in the grocery business about a decade ago. He now oversees Super G Marts in Greensboro, Charlotte and now Burlington.
Kim says he modeled the store after an international market, hoping to make customers feel at ease.
"It's a marketplace where people can come enjoy," Kim said. "They feel like they're in their country store."
At Super G Mart, customers can purchase all kinds of international cuisine. From cactus to chicken heads, there is no shortage of unique foods that originate from Asia, the Middle East, Europe and the Caribbean.
"In the beginning it started with Asian foods like Korean and Chinese," Kim said. "but it was like 'how about some European products?'"
As patrons of Super G Mart come in and around the Burlington area to buy international foods, Kim is able to work with all kinds of people.
"It's challenging and I get to meet more people," Kim said. "When they say, 'Hey will you get this weird product?' and I'm able to go out to a supplier and then we get it. The next time the customer comes in they get what they're looking for, they're happy!"
Kim says this special relationship with his customers gives him an edge over larger stores.
"When you look at the Wal Mart, Harris Teeter, or Food Lion, they're big, but there are a lot of things they don't have. With all the competition these days, we can't keep up with these big companies [otherwise]," Kim said.
While he is still working to establish the store as a viable grocery option, he hopes students will begin shopping at Super G Mart, as well.