College Cooking: Edamame Salad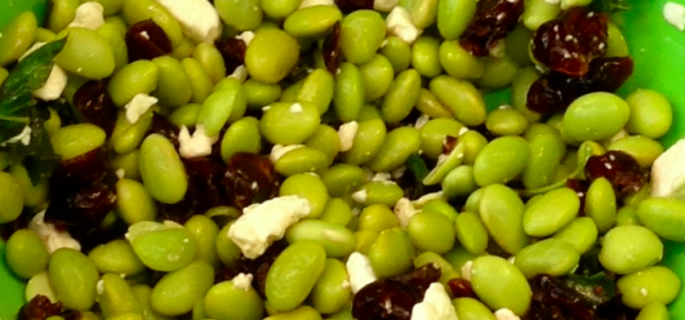 Edamame salad is a unique blend of just a few simple ingredients! Coming in at about $15, this healthy salad will leave you, and your wallet, feeling light yet satisfied. Perfect for the summertime, this salad can be served both warm and cold, and is a yummy blend of bold flavors and bright colors.
Ingredients:
16 oz. frozen edamame
1/2 cups of dried cranberries
1/4 cups of chopped, Fresh Basil
1/2 cups of Feta Cheese
2 tablespoons of olive oil
*Salt and pepper can be added to taste
*Add pine nuts if you would like
How To:
1. Boil water and then cook edamame according to package, usually about 4-5 minutes.
2. Mix all other ingredients together in a bowl.
3. Strain edamame when finished cooking, then add edamame to bowl of ingredients.
4. Stir together.
5. Serve warm, or otherwise refrigerate overnight if a cold salad is desired.
*Keep salad refrigerated if all is not consumed at one time.