Elon sends seniors out with a bang in rout of UNCW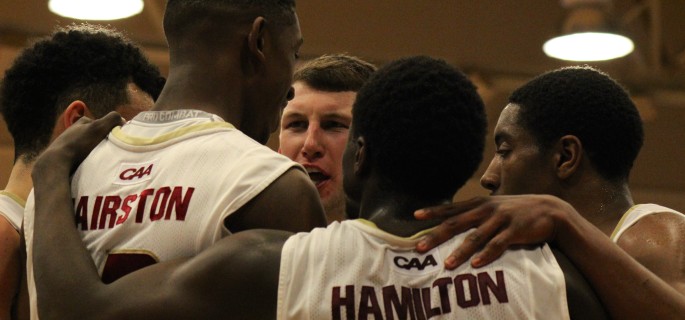 In the waning moments of the Elon University men's basketball team's 74-55 rout of UNC Wilmington on Saturday night, coach Matt Matheny was able to take seniors Austin Hamilton and Kevin Blake out of the game, to thunderous applause and gave them each a hug of appreciation (in addition to injured forward Ryan Winters).
"That's how you want it to be," Matheny said. "You want to be in a situation where you have the ability to just thank the players for their contributions over the past four years."
Matheny was only able to do that because the Phoenix played what was arguably its best overall game of the year, stifling the what was the Colonial Athletic Association's top-ranked squad on defense and having no trouble breaking a pressure defense that gave it fits in a loss to UNCW on Jan. 28.
"We're playing better defensively," Matheny said. "Wilmington really knocked us on our heels down there. I thought we were aggressive from the start and I didn't think we gave them many good looks."
It was Elon's game from the beginning. The Phoenix was aggressive on both ends of the floor, leading to more chances and easy buckets. Elon forced nine UNCW turnovers in the game's first 12 minutes, and ended up going into halftime up 37-22.
The Phoenix didn't let up in the second half, though a full court trap did slow it for a few minutes. Elon managed to build a 23-point lead midway through the half, and leave Alumni Gym with its biggest win against a Division I opponent this season.
"We knew we had a task ahead of us," Elon forward Christian Hairston said. "They're a good team. They play hard. We just wanted to show we're also a good team and we also play hard."
Following a tough start to its time in the new conference, Elon (14-17, 6-12 CAA) has turned it up a notch over the past few games, going on a three-game winning streak and dismantling two of the CAA's top teams. It seems to be the right time too, as the next game for the Phoenix will be at the CAA Tournament for a chance to go dancing.
"All of our hard work is starting to come together," Hairston said. "Continuing to work hard, continuing to play hard, and eventually the chips will fall, and I think that's what's happening for us right now."
Eighth-seeded Elon will head up to Baltimore, Maryland on Friday to play ninth-seeded Towson in the first round of the CAA Tournament at 6 p.m.. The winner of that game will play one seed William and Mary on Saturday. Elon won at home against the Tribe on Jan. 9, and lost in Williamsburg on Feb.11.