Local BBQ restaurant hosts fundraiser for families of cancer patients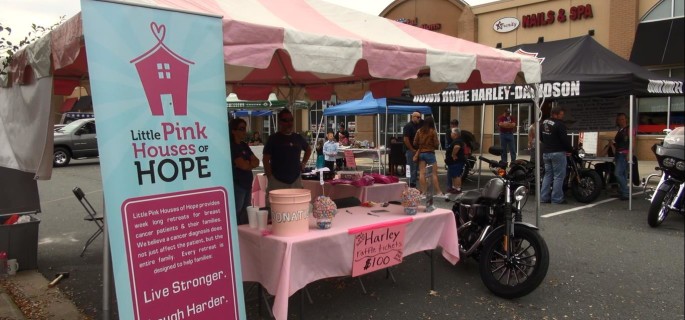 The TickleMyRibs parking lot was packed over the weekend when the owners raised money for Little Pink Houses for Hope. The now annual "Q for the Cure" brought the community together to help families of cancer patients. The goal for the event was to raise $25,000.
Owners of TickleMyRibs, Mark and Jennifer Gibbons, planned and hosted the event. Last year, they hosted the first "Q for the Cure," which turned out to be a huge success according to Mark Gibbons, prompting them to make it an annual event.
"People started calling us before we even announced the event saying, 'What can we do to help? Where do you need us at? Is there anything you need us to contribute?' " Gibbons said.
This year, many members of the Burlington community came to help out with the event, including local businesses like Pelican Snowballs and Serenity Nail & Spa. There were plenty of performances from local bands, dance studios, and martial arts dojos to keep the crowd entertained. Children had the chance to play in a bounce house, go down an inflatable slide, or get their faces painted. There was something for everyone at the event.
"What we look for is for the community to come out, help support, and have a good time," Gibbons said.
Support came in the form of raffling off items donated by the community. Elon Athletics donated signed baseball bats and basketballs, shirts featuring a variety of Elon teams, and accessories to be given away. The biggest prize was the motorcycle featured outside the Little Pink Houses for Hope tent.
While the event meant a lot to the community, it offered hope for cancer patients and survivors alike.
"It brings the community out together, it brings recognition to what little pink is and little pink does for everyone," Rosa Smith, a cancer survivor, said.
Smith had been diagnosed with breast cancer when she found out about Little Pink Houses of Hope. Through the organization, she and her husband received a paid retreat with several other families of cancer patients.
"After having had such an awful, challenging year that I had I thought: wouldn't that be wonderful, that'd be a gift from Heaven," she said.
The retreat lasted a week, offering plenty of activities and events for the families to choose from. By the end of it, Smith felt like she had found a new family with her fellow retreat goers. After being cured in March, Smith has volunteered with Little Pink Houses for Hope to help other cancer patients deal with their situation.
Both Smith and Gibbons believe that the "Q for the Cure" was another success this year. The Gibbons were glad to see so many people come out and support what they believe is an incredible organization. They hope to continue the new tradition for the next several years,