See all of Elon Local News and The Pendulum's coverage from the RNC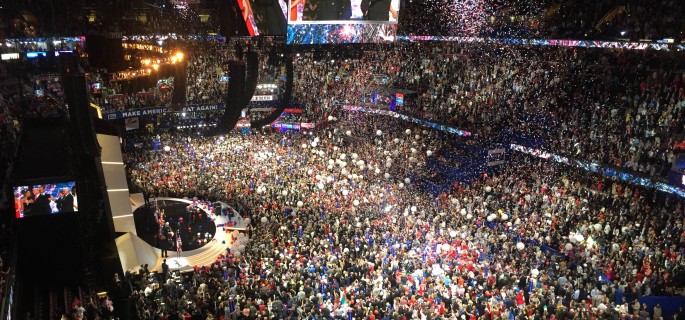 CLEVELAND — Last week, The Pendulum and Elon Local News jointly covered the Republican National Convention.
Instead of covering what everyone else was — Melania Trump's plagiarism, pandemonium over the rules package and the absence of party leaders like John Kasich and Mitt Romney — we decided to focus on what you, our audience, could only find here.
We spoke to Millennials attending the convention about their experiences and thoughts about the Republican Party. We spent an afternoon at the RNC Youth Caucus, an event organized by delegates under 30. We talked to young protesters, heard Millennials' thoughts on Donald Trump and covered LGBTQIA rights, an issue that's important to many Elon students, especially in light of House Bill 2.
We wrote stories, cut video and took photos, all while constantly updating social media.
It was an incredible, beneficial experience for myself, Paige Pauroso and Kailey Tracy. You can find all coverage here:
July 18
"Young people attend Republican National Convention" (by Paige Pauroso)
"At RNC, Millennials look to future of Republican Party" (by Tommy Hamzik)
WATCH: Millennials attend Republican National Convention (by Paige Pauroso)
July 19
"Millennial Republicans host Youth Caucus" (by Tommy Hamzik)
"Young delegate discusses RNC from Millennial perspective" (by Kailey Tracy)
WATCH: Young delegate discusses RNC from Millennial perspective (by Kailey Tracy)
WATCH: Youth Caucus shows contrast within Republican Party (by Paige Pauroso)
"Millennial Republicans express discontent with Trump" (by Tommy Hamzik)
July 20
"Police presence felt on third day of RNC" (by Paige Pauroso)
STORIFY: Protesters outside RNC (by Tommy Hamzik)
WATCH: "Police presence in Cleveland" (by Kailey Tracy)
WATCH: Sights and sounds of protests outside RNC (by Paige Pauroso)
July 21
STORIFY: Last day of RNC (by Tommy Hamzik)
"On last day of RNC, protesters relatively quiet" (by Tommy Hamzik)
WATCH: North Carolina delegates discuss Donald Trump (by Paige Pauroso and Kailey Tracy)
"Trump in RNC acceptance speech: 'I am your voice'" (by Tommy Hamzik)
Post-convention
"As RNC concludes, LGBTQIA rights take center stage" (by Tommy Hamzik)
"Texas delegate on Cruz's speech: 'That took some serious guts'" (by Tommy Hamzik)